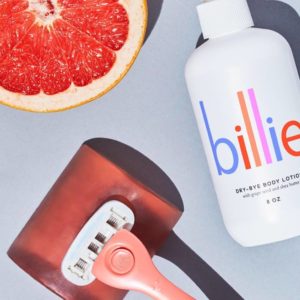 No, this is not an ad or a paid sponsorship, I just have to tell you all about a new product that I have signed up for and I am loving. It may not be new, but it is new to me and I want to spread the word. If you have not tried Billie, you should – it is changing the shaving game for women.
So, What's Billie?
"Billie is female first." Shaving companies in the past have mostly been created for men which contributes to the fact that we usually have to overpay for women's razors. Billie is removing the pink tax: the extra amount women are charged for certain products or services, for no good reason. This is why Billie's razors aren't just half the price of women's shaving brands, they are priced in line with men's razor subscriptions.
Their razors are built for a better shave. They have five sharp blades, encased in 360 degrees of charcoal shave soap, with rounded edges to help you navigate those curves. All of their products are free of toxins and bad additives.
As a company, they donate 1% of all revenue to women's causes around the world. They are currently donating to Every Mother Counts, an organization that is committed to making pregnancy and childbirth safe for women everywhere.
The $9 Starter Kit
I purchased the $9 Starter Kit that includes a Billie handle, the magnetic holder and two five-blade razor cartridges. With this kit, you get four replacement cartridges delivered to your door for $9, whenever you need them. Shipping is always free, too! You tell them how often you shave and they suggest how often they should ship your new blades. In addition to razors, they also have great shave cream, body wash, lotion, and more.
I hope you enjoy it as much as I have. #GirlPower