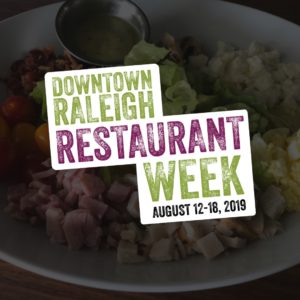 It's the most wonderful time of the year – at least during the summer 😉. Downtown Raleigh Restaurant Week runs from Monday, August 12, through Sunday, August 18, 2019. This week-long dining extravaganza showcases the culinary talent in the heart of the capital city and is the perfect time to get out and try some restaurants you have not tried before.
Restaurants in Downtown Raleigh will feature special three-course prix fixe dinners for either $20 or $30, depending on the venue (tax and tip are not included). You can also grab lunch specials for $5 and $10! I have listed a few places I am hoping to stop by below:
Even if you have dined at some of the participating restaurants before, it is a great time to try something new off of their menu and take advantage of the special pricing! You can view the full list of participating restaurants and their menus here. You can even sort them by $5 lunch, $10 lunch, $20 dinner, or $30 dinner. Reservations are encouraged for dinner so get yours before they are gone!
Downtown Raleigh Alliance
This delicious week of dining is brought to you by the Downtown Raleigh Alliance. Founded in 1996, the Downtown Raleigh Alliance (DRA) is an award-winning nonprofit organization whose mission is to continue the revitalization of Raleigh's downtown by enhancing its quality of life and contributing to its economic success. They strive to build a culture of authentic engagement and inclusion with Downtown's diverse community. In addition to hosting Downtown Raleigh Restaurant Week, they are also the minds behind First Friday. First Friday showcases the vibrant art and creative community in Downtown Raleigh on the first Friday of every month from 6-9 p.m. This free public event features a variety of local art galleries and studios, museums and exhibitors that stay open late, put on special events and often offer refreshments. Retailers and restaurants participate by showcasing art, music or offering a First Friday special.