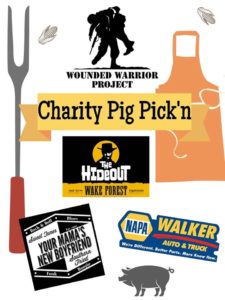 My teammate Ryan Boone is sponsoring Lonerider's Charity Pig Pick'n and I cannot wait to attend! Save the date (Saturday, November 9, 2019) and keep reading to learn a little more about the event.
Join Lonerider and friends for a family-style pig pick'n and help support our veterans! Save the date for Saturday, November 9, 2019, and make plans to visit Lonerider Brewing Company's shiny new Wake Forest hideout for a day of good food, live music, fundraising, and of course, NC craft beer!
BBQ plates are $10 and proceeds will be donated to the Wounded Warrior Project. There will be grilling on the lawn, watching the NC State vs Clemson football game (time TBA), and raising funds for Wounded Warrior Project. Your Mama's New Boyfriend will keep the fun going with live music, too.
Event sponsors include NAPA – Walker Auto Parts, Raleighwood Media Group + Raleighwood Event Group, and Ryan Boone Real Estate.
I hope to see you there!