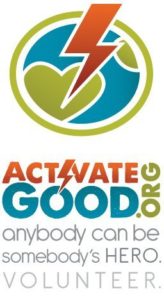 I love giving back to the community, especially around the holidays, but it can be hard to find opportunities. One of my favorite websites for holiday volunteering as well as volunteering, in general, is Activate Good. Activate Good's mission is to activate volunteers to help charitable causes in our local community. Activate Good works as a "force multiplier" for local causes with volunteer needs. Through their Volunteer Community and their Youth Volunteer Program, they are working to make volunteerism part of everyday life in our community. They help recruit and connect individuals, groups, and companies to fulfill volunteer needs with Community Partners around the Triangle area. They are also empowering the next generation of young volunteers and community leaders through youth and family-friendly volunteer opportunities. You can learn more about them at ActivateGood.com.
Holiday Opportunites
Give your most precious gift, time, this holiday season. Activate Good has compiled an incredible list of volunteer opportunities that are taking place between November 17, 2019, and January 5, 2020. Projects may be suitable for individual adults, teens, supervised youth, and/or groups. A few of the charities included on their list are below:
Habitat for Humanity
The ArtsCenter
The Salvation Army
Donate Life NC
Passage Home
United Way
Note in the Pocket
Council on Immigrant Relations
and more…
You can sign up and learn more about each of these projects at Activate Good.
Have a Volunteer Opportunity You Would Like Me to Know About?
I would love to help spread the word and find volunteers. Send me an email at Annie@HudsonResidential.com.
Happy Holidays
I would also like to take this time to thank all my wonderful friends and family and to wish you a happy Thanksgiving, Merry Christmas, and a wonderful holiday season! If there is anything you need during this time, please give me a call at 919-961-3277.